Last night we attended our youngest daughters' middle school band concert. I couldn't help but think of the Connecticut parents who won't ever hear their child play an instrument in junior high.
I was kissing on my 3 and 4-year-old grandblessings and again, the Connecticut parents came to my mind.
Friday evening, I received an automated voice recording from the superintendent of all Lincoln Public schools reassuring parents that they were working with the police department to improve the security of our schools. At the end of the call, he asked that we please tell our kids that school is safe.
How do I do that?
My mind knows the chances of this happening at her school are slim, but so did the Moms of the 20 beautiful 1st graders at Sandy Hook Elementary school. It was never a thought of their parents' that at school or anywhere, their child would be gunned down, never to return into their arms again. They never imagined their kids' teachers would become their heroes.
As a Mom of an 18-year-old son and a grandma of a child who will start kindergarten next fall, my mind cannot begin to understand what happened last Friday. Having a son so close to the shooters' age, I can't see Aaron ever doing something so horrific. Having children in my life so close to the ages of those who were killed, my eyes can't push back the instant tears when fear tries to wrestle and pin down my faith.
So what do we do when as an adult, we have no way to explain this away to our kids? What do we do when we want to keep our kids at home forever? What do we do when our heart aches for the parents living out this nightmare we only view on a screen?
I have no idea, but I'm going to try to do this…
Be still.
Psalm 46:10…Be still, and know that I am God.
I don't know what good will come out of Newtown, Connecticut, but as tragic as last Friday morning was and is, Satan did not win anything. From the first page of Genesis to the last page of Revelation, our God proves over and over again that HE is the Victorious One. Satan will be defeated and destroyed and the prince of darkness knows it. In the meantime, we have to believe that no matter what happens in this crazy world, it will never change the truth of Who God is.
Be still. Today. Tomorrow. And just know.
Blessings,
Psalm 55:23b But as for me, I trust in You.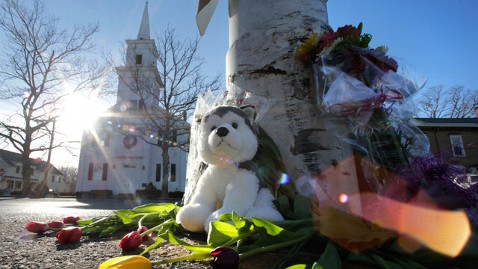 Charlotte Bacon, 6
Daniel Barden, 7
Rachel Davino, 29
Olivia Engel, 6
Josephine Gay, 7
Ana Marquez-Greene, 6
Dylan Hockley, 6
Dawn Hochsprung, 47
Madeline Hsu, 6
Catherine Hubbard, 6
Chase Kowalski, 7
Jesse Lewis, 6
James Mattioli, 6
Grace McDonnell, 7
Anne Marie Murphy, 52
Emilie Parker, 6
Jack Pinto, 6
Noah Pozner, 6
Caroline Previdi, 6
Jessica Rekos, 6
Avielle Richman, 6
Lauren Rousseau, 30
Mary Sherlach, 56
Victoria Soto, 27
Benjamin Wheeler, 6
Allison Wyatt, 6